Tuesday-Saturday 8-5 - Sunday 1-5 - Closed on Mondays.
Open now with blackberries, blueberries, tomatoes, peaches, plums, and nectarines

Our 2300 square foot air conditioned store.
Fruits and vegetables are hand-picked and inspected to ensure exceptional quality.
Tomatoes:
Pick your own tomatoes $1.50/lb. Bring your own container. Pre picked $2.19/lb. Large orders (half bushel/bushel) available by order.
Blackberries:
You-pick $3.40/lb; kids bucket (quart with lid) $6; pre - picked $10/3 pint container; call to check availability of pre picked
Blueberries:
You-pick $3.20/lb; kids bucket (quart with lid) $6; Pre-picked $3.75/pint; $22.00/5 lb box
Tree Ripened Peaches:
Available pre-picked in our Farm Store!
Small bag: $5.00, half peck bag $13.50, peck box $25.00, half bushel $45.00, bushel (50 lbs) $80.00
Nectarines:
Pre-picked $2.89/lb, or bag for $5.00
Plums:
Pre-picked $.2.75/lb or bag for $5.00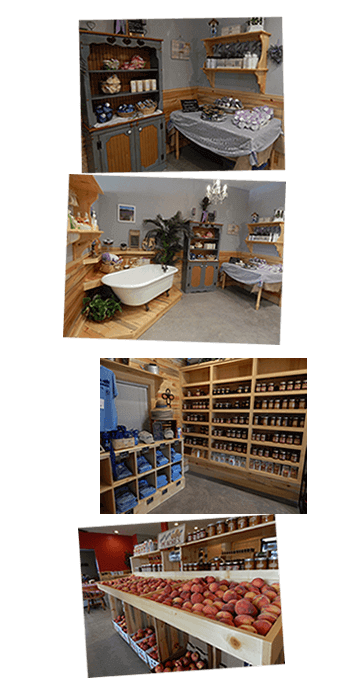 Farm Made Products
Variety of jams, preserves, and relishes
Natural, homemade insect repellent and deodorant
Soaps, bath "balms", and sugar scrubs
Homemade lotions and lip balm
Variety of lavender products
Food/Drink
Homemade peach ice cream or soft serve vanilla, chocolate, or swirl
Homemade blueberry or peach lemonade
Hamburger basket (includes chips and drink)
Homemade mini cobblers
Popcorn
Cooking mixes
Local honey
Cane syrup
Flavored coffees and teas
Souvenirs
Souvenirs (t-shirts, tote bags, wooden toys, and baby rattles)
Handmade wooden toys
Handmade organic baby rattles and teethers
Handmade bowl potholders
And more!!
Copyright 2014
Victoria Web Design